You have children and want to participate in Bonn Brain 2020? We might have the answer: The kids box with a lot inventory like toys, painting materials, furnishing to simply have fun with as well as sanitary items (disposal mats, hygenic tissus, etc.)
Please take in mind, that this can only be used under your supervision since we cannot take care of your children.
The KidsBox is suitable for children from 1.5 to 7 years.
It contains:
a travel cot, which is also suitable as a playpen,
a folding mattress and a mattress for crawling and playing on the floor,
a clamping seat to dock at your own desk,
Stool and table for slightly older children,
Books,various play and painting things,
a changing pad,
disinfectant and a first aid kit,
Hygiene products and much more.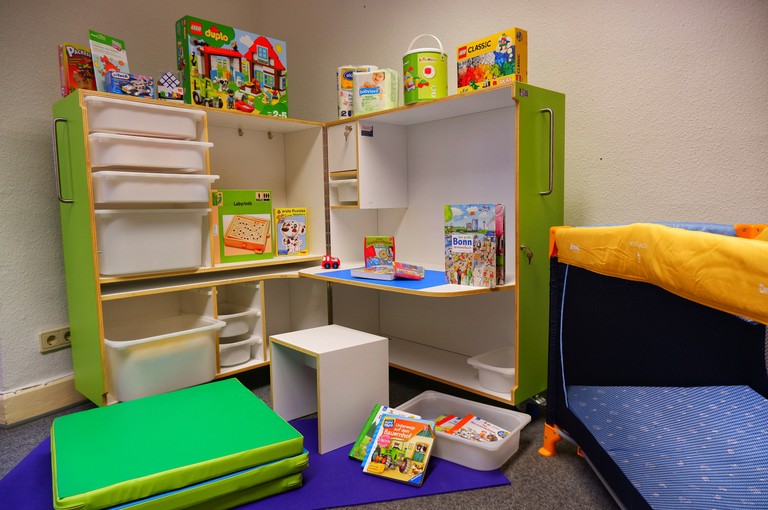 Regulations /Terms of use
The KidsBox may not be used if the child is suffering from a contagious disease (chickenpox, mumps, measles, scarlet fever, rubella or similar) or it is suspected of having one of these diseases. Even in the case of highly febrile diseases or infestation with transmissible parasites (head lice, fleas etc.) usage is excluded.
For hygienic reasons, please bring your own pillow, blanket or fitted sheet (for mattress and the travel bed) as well as diapers, wet baby towels etc.
Used consumables must be disposed of independently.
The play materials in the drawers of the KidsBox are a source of employment. The use of the KidsBox does not mean that the entire site is equipped or that the toys in the KidsBox are suitable for the child. Taking into account the child's stage of development, it is necessary to check in particular whether there is any danger through:
Cables and other objects protruding over surfaces or edges that could pull the child and cause objects to fall,
Table and other furniture edges at head height
The possibility of squeezing fingers, hands or other limbs into doors or drawers
Objects lying around or standing and containers with small parts that can be swallowed, such as paper clips, pens, pen locks, etc.